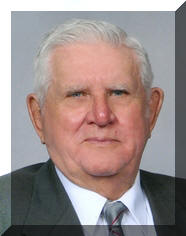 Clarence Wyman "Butch" Heyn, 89 of Wanatah, passed away Friday, March 4, 2022. He was born September 28, 1932 in Wanatah to Wyman and Lena (Stolte) Heyn. Butch graduated from Wanatah High School and proudly served in the United States Army. He made his career at McGill Manufacturing for 15 years, before becoming a USPS Mail Carrier, while simultaneously farming his own 80-acre farm. Butch was a member of the Wanatah American Legion Post 403, Wanatah Area Conservation Club, where he worked at the fishpond for years, Westville Masonic Lodge 192, Experimental Aircraft Association, and the NRA. He enjoyed hunting, fishing, and spending as much time outdoors as possible. Butch was a beloved member of the Wanatah community, who will be dearly missed.
He is survived by his nephew, Howard (Janet) Heyn, Jr. of LaPorte; great nephews and niece, Philip Heyn, Sebastian Wyman Heyn, Kristal Sherbondy; and great-great nephew, Gabriel Sherbondy. He was preceded in death by his parents; sister, Gladys Heyn; brother, Howard (Janet) Heyn, Sr.; and companion of 35 years, Betty Adomitis.
A visitation will be held on Tuesday, March 8, 2022 from 11:00 am – 12:45 pm at Wanatah Funeral Chapel, 309 N. Main St., Wanatah. A masonic service will begin at 12:45 pm, with the funeral service beginning at 1:00 pm. Burial will follow at Salem Cemetery. Memorial donations may be made to the Wanatah Area Conservation Club.