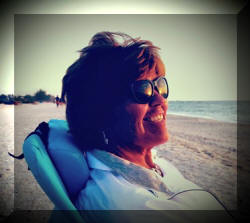 Carol Ann (Hartman) Day, 66 of Valparaiso, passed away Thursday, February 24, 2022. She was born September 11, 1955 in Baltimore, MD to the late Robert Leo and Elizabeth Joan (Kleiderlein) Hartman. Carol earned her nursing degree as hard working single-parent. Upon graduation she worked in various facilities in the area, but enjoyed her time working with her favorite client in home healthcare the most. When she retired, she volunteered at St. Agnes Day Services Center, Valparaiso, enjoyed sewing in her spare time and had a reputation for being quite the seamstress. Carol enjoyed her winter trips to Florida with her husband, Mike and loved spending hours on the beach and in the sun, but most of all she loved visiting and laughing with her large extended family in Baltimore and on the East Coast. Carol is remembered fondly by many for her infectious laughter that let you know she was there.
On March 24, 2000, Carol happily married Michael L. Day who survives along with her beloved daughter, Elizabeth Buehrle (Jonathan Andrews), and her husband's children who she thought of as her own, Angela Bracewell, Michael Day, David Day, and James Day; grandchildren, Olivia and Aiden Bracewell; brothers, Brian Hartman and Glenn (Melanie) Hartman; her nephew, Nicholas Hartman, her sister-in-law Pat Riley, and brother-in-law Keith Day. She was preceded in death by her parents, numerous adored cousins, aunts and uncles, her sister-in-law, Jan Hartman, brother-in-law, Ron Riley, and her dear friend Penny Sansone.
Following cremation, a Celebration of Life will be planned for a later date. In lieu of flowers, please make donations in Carol's name to Lakeshore PAWS of Valparaiso or VNA Hospice NWI.