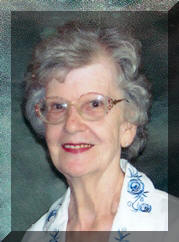 Janice L. Trowbridge, 88 of Valparaiso, passed away February 2, 2022. She was born June 18, 1933 in Crown Point to Lawrence and Ruth (Scott) LaCroix. Jan graduated from Crown Point High School and made her career as a sales associate in the children's department of Miller's Mart in Valparaiso for over 30 years. She was a member of Liberty Bible Church, where she was active in Children's Church, Sunday school, and prayer groups. Jan was a woman of strong faith, who served as a prayer warrior for many in need. She enjoyed spending time gardening, oil painting, doing puzzles, playing Scrabble, and being with family. Jan was diligent about sending birthday cards to her beloved children, grandchildren, and great grandchildren, and always made sure to let them know that they were special. She will be dearly missed.
On September 4, 1958 at Liberty Bible Church, Jan married Warren Trowbridge, who preceded her in death in 2021. She is survived by their children: Gregory (Deborah) Trowbridge of Valparaiso, Cynthia Poole of Flowery Branch, GA, Linda Tuthill of Vandalia, MI, Todd (Katie) Trowbridge of Plano, IL; 17 grandchildren; and 13 great grandchildren. She was preceded in death by her parents; siblings: Harold LaCroix, Evelyn Fulton, Larry LaCroix, Jr., Carol Jane Church; infant twin sister, Nola; and infant brother, Leroy.
A visitation will be held on Sunday, February 6, 2022 from 1 – 4 pm at Moeller Funeral Home, 104 Roosevelt Rd., Valparaiso. The funeral service will begin at 10 am on Monday at Liberty Bible Church, 824 N. Calumet Ave., Chesterton. Private burial at Graceland Cemetery. In lieu of flowers, memorial donations may be made to Liberty Bible Church – Bereavement Group.