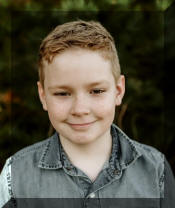 Lucca Ryhs DeCarlo, age 9 of Hobart, the son of Taylor and Jozef Kucharik, passed away suddenly after experiencing a brain aneurysm, Wednesday, February 23, 2022. He was born March 7, 2012 in Lebanon, Oregon. Lucca currently was in 3rd grade at Liberty Elementary in Hobart and enjoyed playing games on Xbox and his computer, swimming, hiking, and talking. Lucca will be remembered and missed for his sweet, loving, and caring personality.
Lucca is survived by his parents, Taylor and Jozef Kucharik; brother, Stiles DeCarlo; grandmother, Sheryl Wilson; aunt, Meagan (Brian) Johnsen; and his uncle, Brandon Wilson. He was preceded in death by his grandfather, Dennis Wilson.
A Celebration of Life will be held on Sunday, March 13, 2022 at the Valparaiso American Legion Post 94 4 Monroe St., Valparaiso. The times for Lucca's Celebration of Life will be announced as soon as they are available.