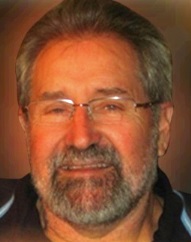 On Monday morning, February 28, 2022, Michael Leonard Davis, 71, went home to be with his Lord and Savior, Jesus Christ. He was a beloved husband, father, grandfather, and friend. Mike's Christian faith was an essential part of his life. Mike was born in Kendallville, IN on August 10, 1950. He was the youngest of six children to Leonard and Grace Davis. He was the first in his family to obtain an associate degree from Lansing Community College. Mike's career with General Motors spanned most of his working life (30+ years), where he was a journeyman electrician as well as an electrical teacher.
His primary passion in life was devotion to his Christian faith, accepting Jesus into his heart in his late 20's. He enjoyed working with his hands through carpentry and automotive repair, singing and playing guitar was his favorite way to bring family together and to celebrate Jesus. One of his most cherished memories was singing on stage at the Grand Ole' Opry in Nashville TN. He enjoyed the company of his close friends. He loved his family, and this could be seen by the great relationships he had with all of them.
He is survived by his wife of 37 years, Linda, his son Michael II of West Jordan, UT, daughter Elizabeth O'Malia of Rockford, MI; his stepson Matthew (Angela) Pakula of Evanston, IL and stepdaughter Elizabeth (Jason) Tisch of St. Charles, IL, eight grandchildren Thomas "Jacob", Aayla and Tyler (O'Malia), Camdyn (Stillwell), Claire and Kate (Pakula), Sam and Jarratt (Tisch), his sister Peggy (Chuck) Sams, and several nieces and nephews. He was preceded in death by his parents Leonard and Grace Davis, his siblings Billy Davis, Naoma McGill, Tom Davis and Bonnie Gose.
A memorial service will be held to honor Mike at the Grand Ledge Baptist Church at 10:00 a.m. on Monday, March 14, 2022, with Pastor Peter Benson officiating. His final resting place will be with his family in the City of Bronson Cemetery. The interment will be scheduled for a later date. Grand Ledge Baptist Church, 1120 West Willow Highway, Grand Ledge, MI 48837, Phone: 517-627-9056 www.glbc.org Memorial donations may be directed to the American Parkinson Disease Association to assist with finding a cure, in Mike's memory, at https://www.apdaparkinson.org/research/