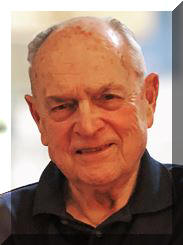 Robert John Hoerr, 100, of Michigan City, passed away on Tuesday, February 22, 2022. Bob was born on April 26, 1921, in Peoria, Illinois to John C. and Aline (Weisser) Hoerr. He graduated from Woodruff High School in Peoria in 1939. After graduation, Bob was employed by Caterpillar in Peoria as Apprentice and Journeyman Patternmaker from 1939-57. In 1946, he was awarded 2nd place in the National Patternmaking Competition for apprentice patternmakers. He worked at Garvey Pattern in South Bend, Indiana from 1957-1976, and at Dalton Foundry in Warsaw, Indiana from 1976-1987. He was self-employed from 1987, /DBA/ R.J. Pattern Services, in New Buffalo, Michigan. Bob was a career-long member of the American Foundry Society.
Bob served in the Illinois Reserve Militia from 1942-1944, and in the U.S. Army, Medical Corps, Pvt. 1st Class, serving on the Aleda E. Lutz US Army Hospital Ship from 1944-46. He made four round trip voyages between England and the US, helping to care for 3,200 wounded soldiers returning home from the European theatre. When the war ended in Europe, his ship transported prisoners of war back to Europe for repatriation. Bob was member of the Apostolic Christian Church of America where he served as choir director and music leader. He served on boards of the Kosciusko County Hospital and the Milford Public Library, and worked on rural service projects in Mexico.
On April 14, 1946, at the Apostolic Christian Church in Milford, Indiana, Bob married Marguerite Beer, who is deceased. He is survived by his children: Rebecca (Richard, deceased) Pelath of Michigan City; Robert (Lilliam) Hoerr, Duluth, Minnesota; Frederic (Martha), Fort Valley, Virginia; Douglas (Tracy) Hoerr, Chicago; and Jeffrey (Rocio) Hoerr, Chicago. Bob had 13 grandchildren (Scott, Marc, Tony, August, John, Matthew, Theo, Allison, Becky, Robbie, Mariana, Malcolm, and Amelia) and seven great grandchildren (Israel, Isabella, Enzo, Leo, Nell, Lucy, and Lennon), many of whom learned woodworking skills from Grandpa in his shop. He enjoyed sharing stories about the family history and the many experiences in his long life, especially his love of northern Michigan and the family cabin on Walloon Lake. Bob was preceded in death by his parents and his brother, Wilbur Hoerr.
A visitation will be held Sunday, February 27, 2022 from 9-11 AM (Central) at the Apostolic Christian Church, 105 IN-49, Valparaiso. The funeral service will follow at 11:00 AM, with interment at the Lakeside Cemetery of Chikaming Township, Michigan. Donations may be made in Bob's memory to Apostolic Christian Harvest Call P.O. Box 3797, West Lafayette, IN 47996. https://www.harvestcall.org/