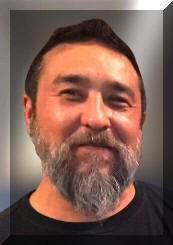 Salvador Cordero, 49 of Valparaiso, passed away after a courageous battle with cancer, Friday, February 4, 2022. He was born December 23, 1972 in Chicago Heights, IL the son of Epifanio Cordero and Maria De La Luz Cordero Leal. Sal had a degree in architecture design and worked for Anderson and Anderson Construction Company, Crown Point. He was an amazing and talented carpenter that took pride in his work and shared his knowledge and work ethic with his co-workers. Sal was very humble and selfless, always taking time to lend an ear and share encouraging words to family, friends, and co-workers. He remodeled his home, basically from the ground up with his love and you can see his work and personal touches all around. Sal enjoyed flowers, birds, landscaping, and art.
On June 10, 2000, Salvador married the love of his life, Cheryl who survives along with his mother, Maria; father, Epifanio; sister, Benita Cordero; brother, Saul (Liza Salazar) Cordero; mother-in-law, Clarie Beebe; sister-in-law, Barbara Clemens; nieces and nephews, Alyssa Cordero, Carlos Ripoll, Jasmin Ripoll Henley, Jaqueline Ripoll, and Leticia Marquez, Genevieve, Saul, Rachel, and Sael Cordero, and Drayke Allen; great nephew, Cannon Henley; some lifelong friends he considered brothers; and his beloved fur babies, Samantha, Oliver, and Penelope. He was preceded in death by his grandmother, Benita Cordero Leal and grandfather, Epifanio Cordero Oviedo.
A Celebration of Life will be held on a later date. In lieu of flowers, the family requests you consider planting a tree and/or flowers in Salvador's memory.